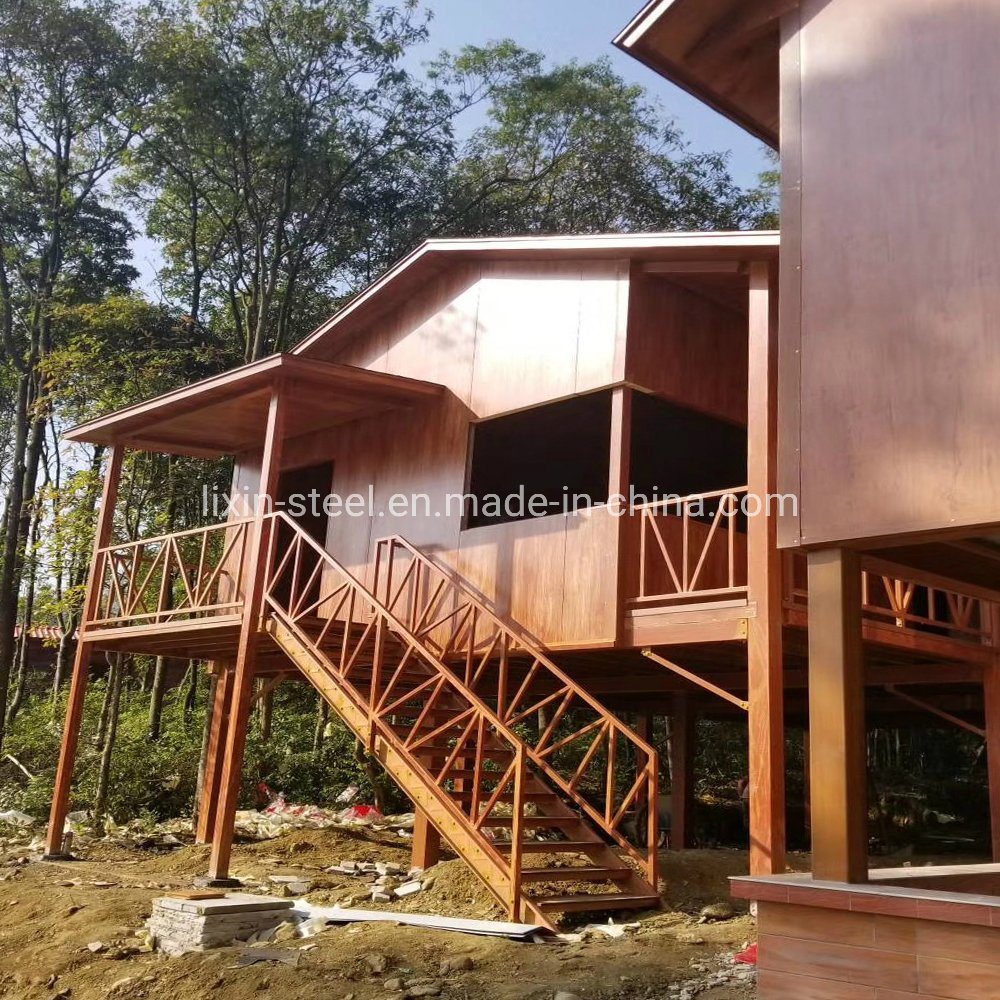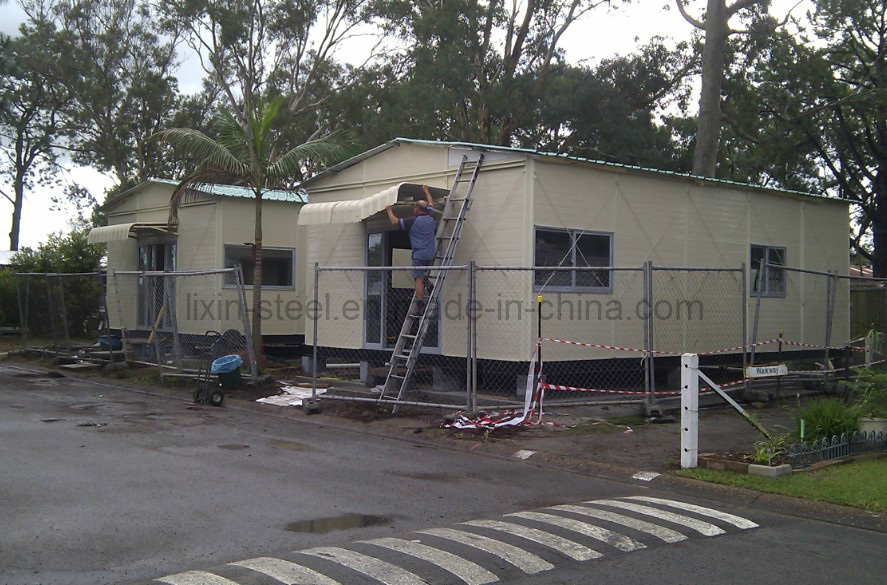 Prefabricated steel structure worker dormitory houses (steel structure villa, family house, affrodable house ), made by simple steel frame (C section steel, angle steel, square tube and so on), rock wool sandwich panel, PVC window, sanwich panel door, PVC ceiling and so on, we supply the whole house together with water and power systerm.
The characteristic of this kind of building is all columns of the building are hided in the building, there is no column and X bracing at external wall, all columns are square tube, more stronger and beautiful than normal low cost prefab house.
1. Reassembling type prefabricated house instruction:
Lixin reassembling type prefabricated house is a kind of environmental friendly and economical type prefab house with a brand new concept. It can be organized by modulization. The frame system is made by light steel structure and the wall and roof system is made by sandwich panel. It realized the temporary construction concept as being simple and beautiful, fast installing, interchangeable and with safe and standard usage. It is a modular house product which can be industrialized produced, stored and repeated used.
2. Usage: It is widely used in field work as a temporary house such as the temporary office, meeting room, headquarters, dormitory, shop, school, hospital, parking lot, exhibition hall, maintain station, gas station at the construction site of road, railway, municipal work and so on.
3. Characteristics:
A. Stable structure: Light steel structure, safe and stable, can accord with the construction structure design standards.
B. Easy to reassemble: Can be used repeatedly. Only simple tools are needed during the installtion. 20-30m2 can be finished each day by one worker, Six workers can finished one 3K*10K standard prefab house.
C. Beautiful appearance: The whole house is bright and colorful with soft texture, smooth surface.
D. Flexible layout: The door and window can be loaded randomly and the partition wall can be put in any position of the lateral axis. The stair can be put outside.
E. Waterproof structure: The house is designed to be waterproof, no need for extra waterproof treatment.
F. Long life span: The light steel structure has be treated by the anti-rust spray paint. It can be used for 10 years at least if used properly.
G. Environmental friendly: Reasonable design, easy to reassemble, can be repeatedly used, little wastage, no building garbage. The average annual cost fot using this type of house is much lower than the one made by other material.
H. The house are made of standard components, the length and the width are both taking K(1K-1820mm) as the modulus. The horizontal size is mk+160, vertical size is nk+160.
Steel structure building importance calculation factors
1. Exact size: Length * width *height
2. Wind speed (max speed)
3. Snow load (kg/m2 in max situation)
4. Earth quake grade (if have)
5. Live load and dead load for roof and flooring(special for mutli-floors building)
6. The requirements for window and door
7. Max height and weight for crane to life
8. What are the materials for roof and wall